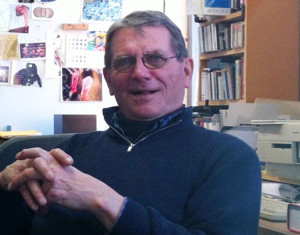 Ken Hruby was born at a cavalry post in the Black Hills of South Dakota and spent a happy, adventure-filled childhood as an Army brat at a number of posts and camps in the mid-west and on the west coast. Family travel included tours in Japan and Germany where he was exposed to cultural diversity at an early and impressionable age. After completing his secondary education in Tacoma, Washington, he graduated from West Point in l961 with a BS in engineering and an infantry commission . For the following twenty-one years, he served in a wide variety of command and staff positions, including advisor to infantry and ranger battalions in Vietnam and two combat tours on the DMZ in Korea.
Upon completion of military service, he attended the School of the Museum of Fine Arts in Boston, Massachusetts where he focused in sculpture and received a prestigious Traveling Scholars Award. His work has been shown in numerous group and solo shows across the nation and is included in several private and public collections, including the National Vietnam Veterans Art Museum in Chicago and the Cape Ann Museum in Gloucester, MA.
His first solo show, "Mustering Out," and four more recent shows,"Juggernaut", "Minefields of Memory", "Free Fall", and "Tour of Duty", were selected by the Boston Globe as "Best Gallery Events" for the years 1989, l995, l997, 1999, and 2001 respectively. He was the recipient of a New England Foundation for the Arts sculpture grant in l995 and received a sculpture grant as a Finalist from the Massachusetts Cultural Council in 1999. Ken teaches at the Museum School, maintains a studio in Boston and lives in Gloucester, MA, where a survey of a decade and a half of his work was featured at the Cape Ann Historical Museum in 2001. "Fire Fight", a kinetic sculpture installation, was shown at the Boston Sculptors at Chapel Gallery.
His many honors include a General Services Administration National Design Award, a National Endowment for the Arts / New England Foundation for the Arts Fellowship, inclusion in the Public Art Network's National Year in Review on eight different occasions, and numerous commendations for his public art work.
Professional:
Commission: Design, fabricate and install Young-Wise Memorial Plaza at Hendrix College, Conway, AR to honor three alumni killed in action in WWI and Afghanistan.  Dedicated 2013.
Adjunct Sculpture Faculty, School of the Museum of Fine Arts, Boston, 1990 – present.
Founding Member, Boston Sculptors as Chapel Gallery, 1992.
Commissions, "First Night Celebration of the Arts", Boston 1987 through 1990.
Education:
School of the Museum of Fine Arts, Boston, Fifth Year Certificate, 1988; Diploma, 1987.
U.S. Army Command and Staff College, Ft. Leavenworth, KS, 1975.
University of Georgia, Athens, GA, MBA (ADP), 1971.
USMA, West Point, NY, BS (Engineering), 1961.
Awards:
Massachusetts Cultural Council Sculpture "Finalist" Grant, 1999.
SMFA Faculty Enrichment Grant, 1996, 1999.
New England Foundation for the Arts, Sculpture Grant, 1995.
Museum School Traveling Scholarship, 1988.